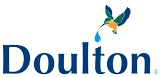 The Water Shop Fluoride Twin Undersink water filtration system can be conveniently installed under the sink and comes with your choice of attractive, designer chrome taps, at no extra charge. The pure water faucet can be easily mounted on your bench-top in a position of your choice.
The first stage filter features the genuine Doulton Ultracarb® dual filter cartridge, made in the UK.
Especially ideal for those looking to remove Fluoride from their drinking water within a compact, neat system.
This system meets The WaterMark specification AS/NZS 3497:1998 Amdt 1 2001 Drinking water treatment units—Plumbing requirements. Certificate Number 23124.